If you are looking to stand out from the rest then our party bus with mirror chrome and party graphics body wrap is exactly what you are looking for.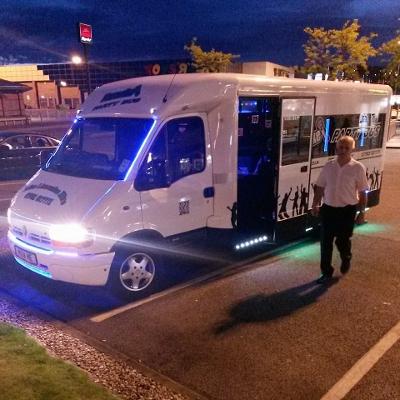 Contact us on 01642 206607, or 07901017771 for the best party bus experience in the north east.
With prices from as little as £7.81 per person based on 16 sharing why would you book any other company. With on board karaoke and a 10,000 watt sound system plus a laser light show there is no better way to start or end your night.
Special deals. Cleveland area to Newcastle, York, Sunderland and return only £25 per person if 16 sharing. Usual price £30 per person.
1hr hire for birthdays, hen nights, or any other excuse to have a good time. Pick up anywhere in Cleveland area, have a 1hr drive around and then be dropped off anywhere in Cleveland. Complimentary drinks included. Only £10 per person if 16 sharing. You are welcome to bring your own drinks on board. Save on taxi fares and expensive pub prices while having a whale of a time.
see our other websites www.mypartylimo.co.uk www.blisspartybushire.co.uk www.blisslimohire.co.uk www.partyinabus.co.uk
With 16 seats there is plenty of room for you and your friends to have a great time.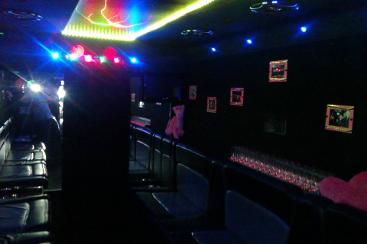 our new 16 seat karaoke party limo bus perfect for any occasion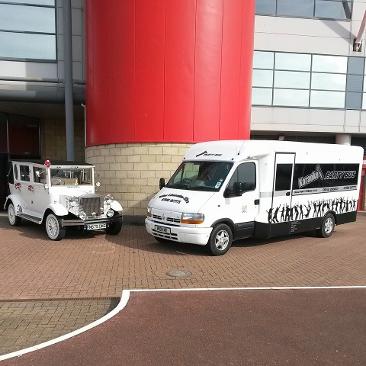 We have thousands of karaoke and music CD tracks from the 60s, 70s, 80s, 90s, 2000, and right through to 2013. We have tried to cover all tastes for all age groups but if you have any preference or a particular artist in mind check with us first. You are welcome to bring your own music along with you and the best way to do this is to make a copy of the CD, or put your music onto an SD card. Our player also plays DVDs and with 3 TVs you can watch your music videos or even your favourite film. We will soon be adding a PS3 but check with us first if this is an essential requirement. Our karaoke system has two microphones which are of professional quality and due to the amount of breakages and theft in recent times a £10 deposit is required for each mic should you want to use the karaoke. If you or one of your party break a mic or lead your deposit will not be returned for the broken mic. This is to go towards replacing the broken equipment. Obviously if there is no damage or if it can be put down to wear and tear your deposit will be refunded in full. If you want to use the karaoke and do not want to pay the deposit then you are welcome to bring your own mics along with you.